Lunch
Please note that our menus change frequently; the offerings in-house may be slightly different.
---
starters
cheese and charcuterie board  20  |  l`amuse signature gouda, bermuda triangle, salumi hot sopressata, grilled baguette, marinated olives, spiced almonds, pear jam
roasted cauliflower 14  | togarashi roasted cashews, pickled raisins, thai basil, mint, cilantro, curry vinaigrette
farro risotto  16  |  dried baby tomatoes, baby zucchini, trumpet mushroom, pancetta, parmesan cheese, fresh herbs, olive oil
avocado toast  12  |  baby heirloom tomatoes, radish, oregano vinaigrette, micro celery, balsamic thyme reduction, grilled bread  add cured trout  6
prosciutto bruschetta  16  | burrata cheese, oven dried tomatoes, pine nuts, golden raisins, mint, basil, aged sherry vinegar, olive oil grilled bread
---
salads & soup
caramelized onion and potato soup  12  | thyme black pepper crème fraiche, fried shallots, chives, chive oil
house salad  14  | pears, little gem, endive, pistachios, pickled shallots, chives, smokey blue cheese vinaigrette
kale salad  14  | cucumber, baby tomatoes, pine nuts, capers, parmesan,  fennel vinaigrette
chopped chicken salad 16  | radicchio, frisee, little gem lettuce, red onion, smoked bacon, avocado, baby tomatoes, cucumber, roasted sweet corn, cashews, garlic herb vinaigrette
smoked ocean trout salad 16  | baby arugula, radish, stewed cherries, brioche croutons, chives, dill- lime vinaigrette.
roasted baby beets 15  | wild arugula, pickled apples, roasted pepitas, goat cheese crème fraiche, orange-thyme
nicoise salad  18  | seared albacore, gem lettuce, confit potatoes, snap peas, kalamata olives, baby heirloom tomatoes, crispy quinoa, boiled egg, chives, orange mustard vinaigrette
---
sandwiches & burgers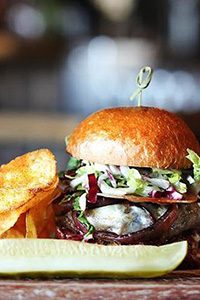 roasted turkey sandwich  15 |  smoked bacon, provolone, oven dried tomatoes, little gem lettuce, radicchio, avocado, red onion, mustard aioli, francese bread
 corned beef sandwich  15 |  shaved sweet onion, gruyere, arugula, thousand island, francese bread.
 roasted pork belly sandwich   15 |  pickled carrots, radish, cucumber, jalapeno, cilantro, yuzu kosho aioli, ginger gastrique, francese bread.
grilled chicken pesto  sandwich 15  |  provolone, pickled shallots, pesto, baby arugula, francese bread
pacific rock fish sandwich  16  |  napa cabbage, pickles, roasted tomato aioli, onion herb caper relish, francese bread
romeo burger  16 | red onion, baby arugula, smokey blue cheese, lemon garlic aioli, portuguese roll
 juliette burger  16 |  tomato jam, grilled balsamic onions, aged cheddar, smoked bacon, little gem lettuce, radicchio, mustard aioli. portugeuse  roll
---
entrees
duck confit  20  |  beluga lentils, carrots, celery, chimichurri, fried shallots, micro celery
hanger steak  33  |  togarashi , potato confit, braised kohlrabi, grilled spring onion, pickled ramps,
kaffir lime, veal reduction
grilled swordfish  26  |  potato confit, dried baby heirloom tomatoes, braised fennel, petite hearts on fire, black garlic vinaigrette
---
sides
mixed green salad 6  |  gem lettuce, radicchio, frisee, cucumber, tomatoes, radish, aged sherry vinaigrette
french fries  6  | house made ketchup, harissa aioli
house made barbeque potato chips  4  |